Comment Sold is technology that DWC utilizes to make the buying experience better for our Primas on the DWC Prima Live Shows.

Is there any fee for having a DWC Comment Sold account?

No.  Setting up an account is free to you and will allow you to keep track of all your purchases, receive account credits, coupons and other amazing features to make your shopping experience easier and fun!

Do I have to buy my items during the show?

Nope! In fact we prefer for you to Comment Sold on all of the products you want and then after the show go to your account page and make your purchases.

Can I still purchase items after the show has ended?

Absolutely!! As a DWC account member you have two options to purchase after the show ends. First you could simply log into your DWC Comment Sold account and see all of the products from that and previous shows (if inventory is available) and purchase directly from there. Second, you could simply sit back and watch the show when you are ready and simply Comment Sold (Item#, Size and color if necessary) on anything you want and if there is still inventory available you can purchase them.

How long do I have to pay my invoices?

Typically your items will expire in 3 hours after placing them into your cart and will then be returned into the inventory for people waiting on the waitlist.

The Waitlist is a cool feature that allows you to be placed on if something you wanted to purchase is out of stock. Many times (Unfortunately) let their shopping cart expire and change their minds and as soon as that stock is released, the next person on the Waitlist will see it in their cart for purchase. Please note, you are not committed to buy any item that you may be on a waitlist for but if you do decide not to purchase it will go to the next person on the list.

Can I use Coupons or DWC Rewards through Comment Sold?

Unfortunately, no. They are two completely different systems and cannot be automated. You do however earn Rewards Points with every purchase. You can then redeem them on our website or in the Retail Superstore. Besides, the deals and prices you get through the show are already fantastic!!!! However, we are able to create Coupons in Comment Sold to use.

Can I combine my DWC website orders with my Comment Sold orders?

Unfortunately do to the complexity of the systems combining them would result in inaccurate account data with regards to tracking and order information between the two. We will however attempt to combine any orders that we catch before shipping. If you place multiple orders, please reach out to our Customer Service department and alert them and if possible we will attempt to combine them.

Can I still participate in the games that are played on the Live show?

You do not, unless specified, have to purchase any item to participate in the Live show games. However, you can only participate during the actual live showing of the show and not during a replay. If you are a member of out Prima FB Shopping Group, you can still participate in the Spin to Win 3 color pick without attending the Live Show.

Why are all sales Final on this platform?

A lot of time an effort go into preparing and executing these shows. Inventory is allocated specifically for the Live Shoppers and thereby cannot be sold thru traditional channels. Often, these items have their prices greatly reduced as an added benefit to our Prima Live Shoppers. All Sales are Final and if they don't work out, we suggest donating or reselling the items.

What is the Account Credit in my Comment Sold account?

Account Credit can be used towards any purchase through your Comment Sold account. From time to time we will issue you Credit for various reasons.

Can I only pay using Paypal?

No, you may use a debit or credit card along with Paypal to make your purchases. Paypal would simply process that debit or credit card payment. You do not have to set up a Paypal account.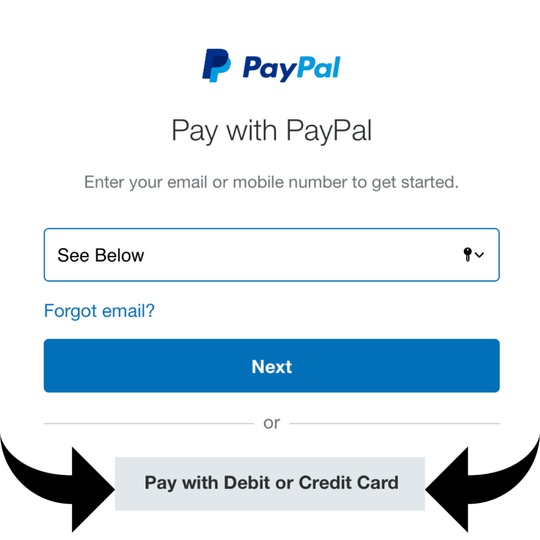 When paying for you invoice in your DWC Comment Sold account. If you like using Paypal and you have an account, awesome! If you do not have a Paypal account and you don't want to create one, no problem! Simply click on the button below that says "Pay with Debit or Credit Card" and you can use that! It's simple and easy.
Please note: you cannot use any Promo codes, discount codes or DWC Reward Points with Comment Sold purchases. You will however receive DWC Reward Points towards a dancewearcorner.com or DWC Superstore purchase!
We also will have available DWC Comment Sold Coupons that will work and DWC Comment Sold Account credits that we may apply to you! So have fun Shopping!