Quality, cruelty-free, products for all types of athletes!
Pointe Builder is a multi-functional resistance system that strengthens your ankles, legs, and for certain athletes such as dancers, gymnasts, and divers, it focuses your attention on improving your toe point. 
Kit Includes: 2 Knee bands, 3 Sets resistance bands, 1 Pair half sole shoes, Tote bag
Pointe Builder is a point resistance system that teaches you to keep your foot in a deep point during your routine. Pointe Builder will fore you to work harder at pointing your toes during practice. It will train your foot to make a deeper point. Then, in turn, when you are actually performing without your Point Perfecter, your foot will naturally point without strain!
How many times have you been told to "fix your feet" by coaches, instructors, or parents?
Go Limber was designed to simplify and help target specific areas to stretch, as well as provide a tool to help develop tricks.
The grip handle is padded for comfort and greater grip control. By using a handle, you can easily regulate the degree of stretch intensity you require.
The heavy-gauge steel swivel head snap clasp allows you to move from one position to another without bands tangling, readjustment, or hassle.
Go Limber comes with a faux suede padded loop. Compared to using a flat nylon loop, the padded faux suede loop provides greater grip when used on the foot or show, and comfort when used on the ankle.
The swivel head and grip handle allow you to maintain straight body alignment during transitions so that you do not lose your balance. Using one hand on the grip also allows you to hold a chair back or ballet bar to maintain balance.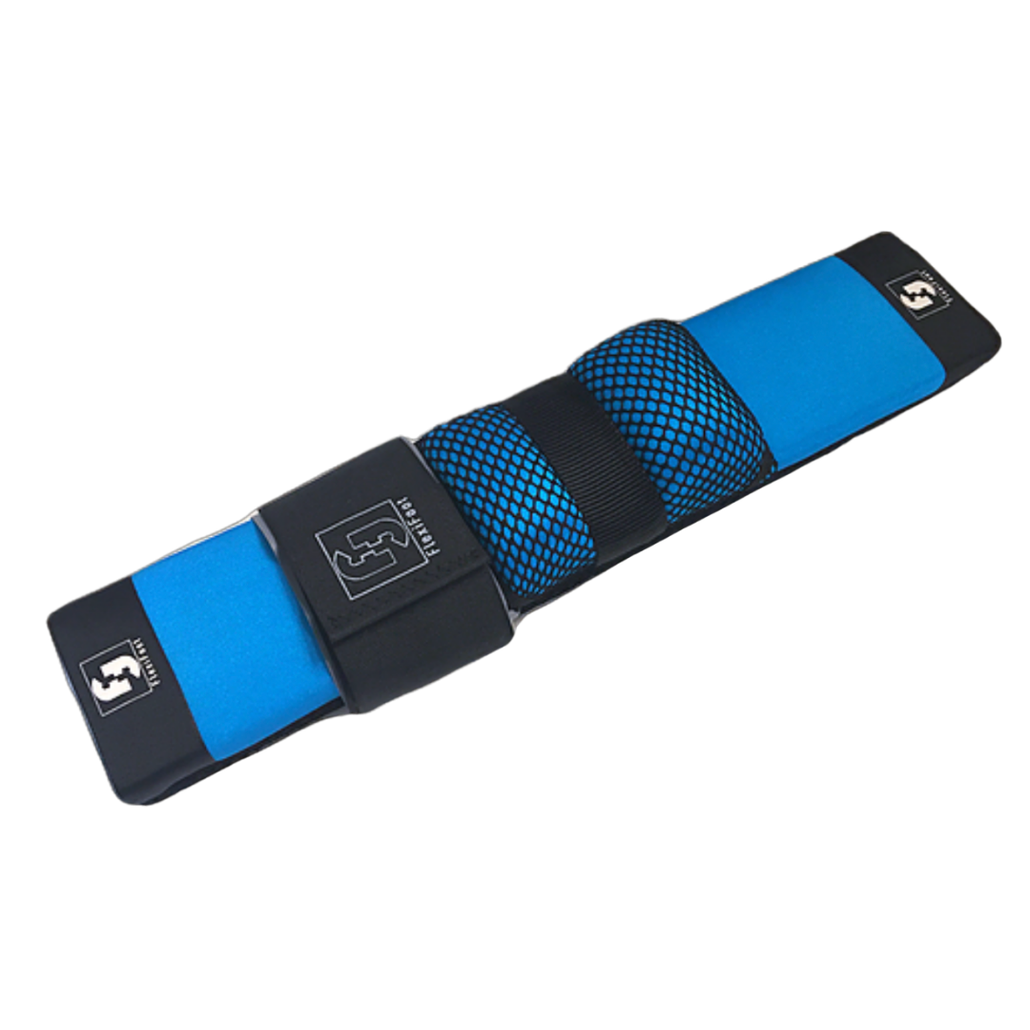 This is an in depth understanding of the key elements of this product. 
What does the Arch Stretcher do?
☐ Provides a hands–free tool to stretch the foot/ankle/lower leg 
☐ When used properly, you will stretch the ankle/foot area to create a deeper toe point
What makes this different than other Stretch products?
☐ Padded heel cradle for greater comfort.
☐ Two levels of resistance to work for you from beginner to advanced athlete.
how do I use it?
☐ With knee bent, place the heel in the cradle and the front portion of the foot under the resistance band portion
☐ Slowly lower the knee and straighten the leg until you feel resistance across the front of your ankle but not pain
☐ Hold for five seconds, then release the tension by bending the knee upward / repeat 5 - 10 times
☐ Only add the Velcro resistance on top of the band portion when you comfortable straighten your leg into a full point comfortably
How will this help me?
☐ By drawing attention to your toe point with resistance work and improved flexibility, you will pull toes down into a deeper toe point.  
What to remember when using this product
☐ Always listen to your body. Never stretch to the point of pain. It is like learning the splits. You slowly stretch and release with patience. Eventually, you will achieve the desired flexibility level.
☐ Make certain to point toes forward and straight. You do not want to sickle your foot while stretching and reinforcing a bad habit. 
There is nothing like the Turn Pro on the market! Turn Pro is a turn shoe with a built-in rotary turn mechanism that helps you practice your turns and find your core balance while in multiple turns. The difference between Turn Pro and other turn devices and aids is that Turn Pro puts your foot in the correct relevé position. No other turn product does the same.
The metal base is manufactured in the US by an aerospace/medical equipment manufacturer to ensure the highest quality and durability in the industry. 
When you outgrow the turn shoe, you can replace that portion without having to purchase a whole new device!